HBJ Integrated Belt Filter Press for Sludge Thickening and Dewatering
(Mobile Type)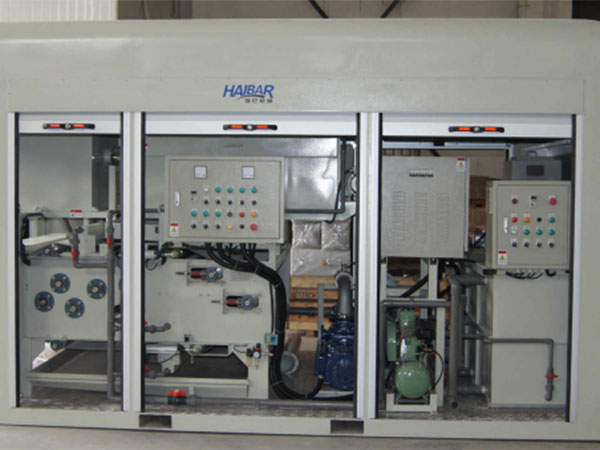 Widely used in a variety of industries, the HBJ series belt filter press combines the thickening and dewatering processes into an integrated machine for sludge and wastewater treatment.
HAIBAR's belt filter presses are 100% designed and manufactured in house, and feature a compact structure in order to treat different types and capacities of sludge and wastewater. Our products are well known throughout the industry for their high efficiency, low energy consumption, low polymer consumption, cost saving performance and long service life.
An HBJ series mobile integrated system is installed in a container or in a trailer with a full set of solutions, including the sludge conditioning tank, polymer preparation unit, rotary drum/gravity belt thickener, belt filter press, air compressor, sludge feeding pump, polymer dosing pump, cleaning pump, control cabinet, pre-piped and pre-wired pipelines, and a customized container.
Features
The mobile and integrated thickening and dewatering system comes with a full set of solutions.
The solid content rate is highest when the inlet consistency is flexible between 0.4 and 0.8%, 0.8-1.5%, or 1.5-2.5%.
This machine is an economical choice for small projects, temporary treatment and seasonal treatment.
Installation is done in a customized container or on a trailer.
Continuous, automatic, simple, stable and safe operation
Easy maintenance ensures long term service and low labor costs.
The environmental friendliness comes from the low energy consumption and low noise emissions.
The patented flocculation system reduces polymer consumption.
Optional pneumatic adjustable or spring tension systems
Optional numbers of press rollers is based on customization requirements.

Send Inquiry