Belt Filter Press Systems for Sludge Dewatering, Sludge Dewaterer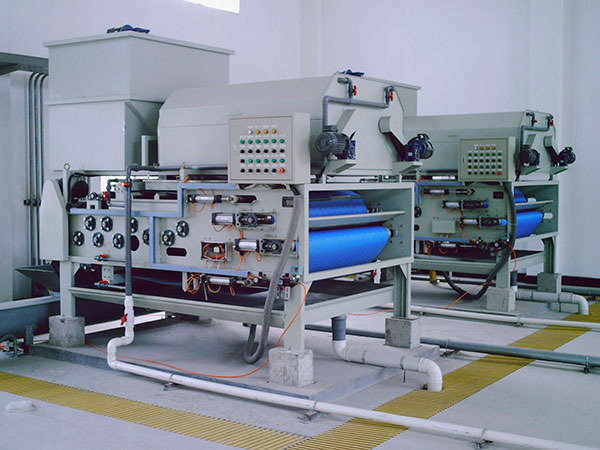 The belt filter press (sometimes called a belt press filter, or belt filter) is an industrial machine used for solid-liquid separation processes.
Our sludge belt filter press is an integrated machine for sludge thickening and dewatering. It innovatively adopts a sludge thickener, thereby featuring great processing capacity and pretty compact structure. Then, the cost of civil engineering projects can be significantly reduced. Furthermore, the filter press equipment is adaptable to different concentrations of sludge. It can achieve an ideal treatment effect, even if the sludge concentration is only 0.4%.
According to different design principles, the sludge thickener can be categorized into rotary drum type and belt type. Based on it, the sludge belt filter press made by HaiBar is divided into drum thickening type and gravity belt thickening type.
How Our Belt Filter Press Works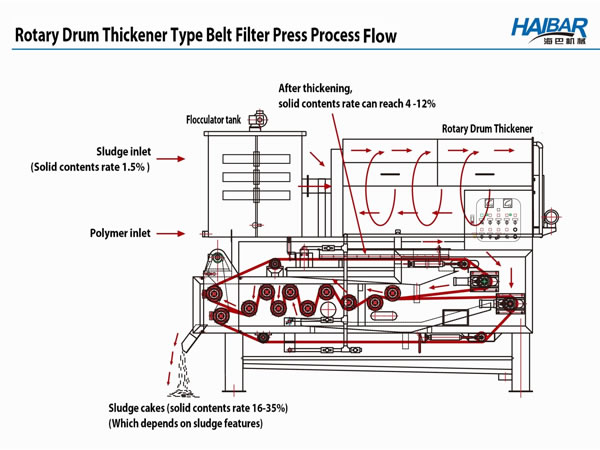 After flocculation and compression periods, the slurry is delivered to a porous belt for thickening and gravity dewatering. A large amount of free water is separated by gravity, and then the slurry solids are formed. After that, the slurry is sandwiched between two tensioned belts to pass through the wedge-shaped pre-compression zone, low pressure zone, and high pressure zone. It is extruded step by step, so as to maximize the separation of sludge and water. At last, the filter cake is formed and discharged.
Belt Press Types
Applications
Our sludge belt filter press has a good reputation within this industry. It is highly trusted and accepted by our users. This machine is applicable for sludge dewatering in different industries such as chemicals, pharmaceuticals, electroplating, papermaking, leather, metallurgy, slaughterhouse, food, winemaking, palm oil, coal washing, environmental engineering, printing and dyeing, as well as the municipal sewage treatment plant. It can be also used for solid-liquid separation during industrial production. Moreover, our belt press is ideal for environmental management and resource recovery.
With view to different treating capacities and properties of slurry, the belt of our sludge belt filter press is provided with different widths ranging from 0.5 to 3m. A single machine can offer the maximum processing capacity of up to 130m3/hr. Our sludge thickening and dewatering facility can continuously operate 24 hours a day. Other prominent characteristics include easy operation, convenient maintenance, low consumption, low dosage, as well as the sanitary and safe working environment.
Accessory Equipment
A complete sludge-dewatering system is composed of the sludge pump, sludge dewatering equipment, air compressor, control cabinet, clean-water booster pump, as well as the flocculant preparation and dosing system. Positive displacement pumps are recommended as the sludge pump and the flocculant dosing pump. Our company can provide customers with a full set of sludge dewatering system.
Traits of the Integrated Machine
Belt Position Correcting System
This system can automatically keep detecting and rectifying the deviation of belt cloth, so as to guarantee the normal operation of our machine and also extend the lifespan of the belt.
Press Roller
The press roller of our sludge belt filter press is made from SUS304 stainless steel. Additionally, it has gone through the TIG reinforced welding process and fine finishing process, thus featuring compact structure and ultra high strength.
Air Pressure Control Device
Tensioned by an air cylinder, the filter cloth can run smoothly and safely without any leakage.
Belt Cloth
The belt cloth of our sludge belt filter press is imported from Sweden or Germany. It features superb water permeability, high durability, and ultra strong corrosion resistance. Moreover, the water content of the filter cake is dramatically reduced.
Multifunctional Control Panel Cabinet
The electrical components come from the internationally renowned brands such as Omron and Schneider. The PLC system is purchased from Siemens Company. The transducer from Delta or German ABB can offer stable performance and easy operation. Furthermore, a leakage protection device is utilized to guarantee the safe operation.
Sludge Distributor
The sludge distributor of our sludge belt filter press allows the thickened sludge to be distributed evenly on the upper belt. In this way, the sludge can be squeezed uniformly. In addition, this distributor can improve both dehydration efficiency and the service life of the filter cloth.
Semi-Centrifugal Rotary Drum Thickening Unit
By adoption of the positive rotation screen, a great deal of supernatant free water can be removed. After separation, the sludge concentration can range from 6% to 9%.
Flocculator Tank
Diversified structural styles can be adopted with view to different sludge concentrations, for the purpose of fully mixing the polymer and sludge. This design also helps reduce the dosage and cost of sludge disposal.
Package
Ready-fitted product
Spare parts and accessories
Certificate and operation manual
Accessory equipment certificates and operation manuals
Control cabinet
Control cabinet operation manual
Specification
| | |
| --- | --- |
| Parameter | Value |
| Belt Width (mm) | 500~2500 |
| Treating Capacity (m3 /hr) | 1.9~105.0 |
| Water Content Rate (%) | 63~84 |
| Power Consumption (kw) | 0.75~3.75 |