Paper & Pulp Sewage Treatment
The papermaking industry is one of the 6 main industrial pollution sources in the world. Papermaking wastewater is mostly sourced from the pulping liquor (black liquor), intermediate water, and the white water of the paper machine. Wastewater from paper facilities can severely pollute the surrounding water sources and cause great ecological damage. This fact has aroused the attention of environmentalists all over the world.
With increasing awareness of environmental responsibilities, it is extremely urgent to address environmental pollution caused by papermaking wastewater. A belt filter press can play a vital role in the sewage disposal or slurry recovery efforts in the papermaking industry.
A famous paper mill in Danyang, Jiangsu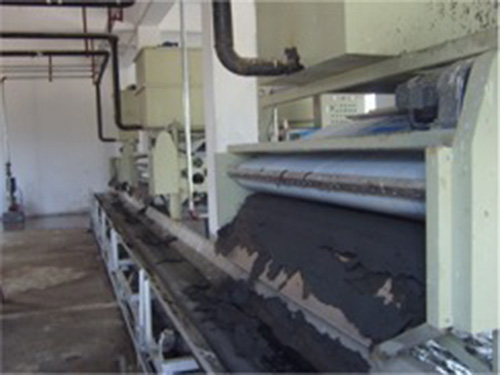 In Jiangsu Province, a well-known paper mill is capable of dealing with wastewater of up to 24000m3 daily, because it adopts the anaerobic biological treatment process (UASB). The sludge contains a great number of fibers, suspended particles, and poorly biodegradable substances. Therefore, the dewatering performance of a dehydrator is necessary. After multiple site visits, this factory purchased three HTB-2000 series belt filter presses from our company in March, 2008.
Our clients have been quite satisfied with the water content rate, processing capacity, dosage, and other aspects, since the equipment was put into use. Among them, the solid content can reach over 28% after thickening and dewatering, which is superior to the standard put forth by our customers. Therefore, the cost for sludge cake disposal after dehydration is dramatically reduced.
Sinar Mas Group OKI Project in Indonesia
The plant bought eight HTE-2500L belt filter press combined rotary drum thickeners (heavy duty type), which were delivered in February, 2016. The machine treats 6400 cubic meters of sewage and its water content of inlet mud is 98%
By cooperating with the large and medium-sized papermaking companies in China and abroad, HaiBar is capable of formulating the most scientific paper–mill sludge dewatering solutions with our customers on basis of their on-site sewage characteristics. You are welcome to visit the manufacturing workshop of our company, and also investigate the sludge dewatering sites of our existing customers in the papermaking industry.