HTE Belt Filter Press Combined Rotary Drum Thickener, Heavy Duty Type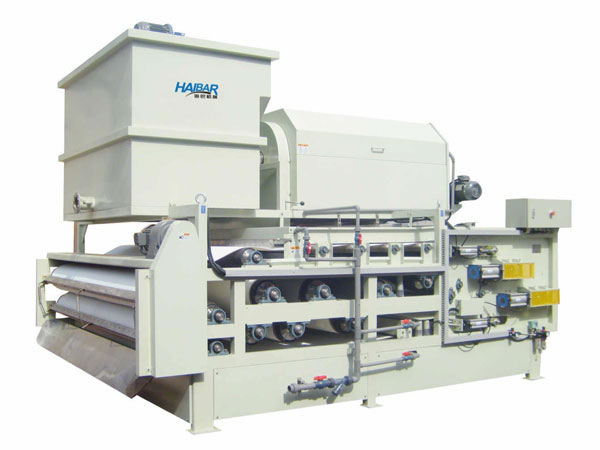 Widely used in a variety of industries, the HTE belt filter press combines the thickening and dewatering processes into an integrated machine for sludge and wastewater treatment.
HAIBAR's belt filter presses are 100% designed and manufactured in house, and feature a compact structure in order to treat different types and capacities of sludge and wastewater. Our products are well known throughout the industry for their high efficiency, low energy consumption, low polymer consumption, cost saving performance and long service life.
An HTE belt filter press is a heavy duty filter press using the featured technology of rotary drum thickening.
Features
Integrated rotary drum thickening and dewatering treatment processes
This machine carries out an ultra-long thickening and dewatering process for nearly all sludge types.
Wide range and large treatment capacity applications
The best performance is found when the inlet consistency is 1.5-2.5%.
Installation is easy due to the compact structure.
Automatic, continuous, simple, stable and safe operation
Environmentally friendly operation is achieved due to the low energy consumption and low noise levels.
Easy maintenance ensures the long service life.
A patented flocculation system reduces polymer consumption.
Press rollers with 9 segments, an increased diameter, high shear strength and small wrapped angle offer maximized treatment effects and achieve an extremely low water content rate.
The pneumatic adjustable tension achieves an ideal effect in full compliance with treatment processes.
A galvanized steel rack can be customized when the belt width reaches more than 1500mm.
Focus
Pneumatic Tensioning Device
The pneumatic tensioning device can realize the automatic and continuous tensioning process. In accordance with the site conditions, users can adjust tension by adoption of our pneumatic tensioning device instead of the spring tensioning tool. Coordinated with the filter cloth, our device can achieve a satisfactory rate of solids content.
Nine-Segment Roller Press
A maximized treatment effect can be offered, because of the press roller of up to 9 segments and the roller layout of high shear strength. This roller press can give the highest rate of solids content.
Applications
For achieving the best treatment effect, this series belt filter press adopts the unique frame-type and heavy-duty structural design, the ultra-long thickening section, and the roller with increased diameter. Therefore, it is extremely suitable for treating the sludge of low water content in different industries including the municipal administration, papermaking, polycrystalline silicon, palm oil, and more.
Cost Saving
Owing to low dosage and low energy consumption, our superior mechanical dewatering system can obviously help clients save much cost. Thanks to simple maintenance and operation, it has a low demand for operators, so that the human resource cost can be greatly reduced. Moreover, this product can offer an ultra high rate of solids content. Then, the total amount and transportation cost of the sludge can be enormously lowered.
Superior Quality
This HTE series heavy duty rotary drum thickening-dewatering belt filter press is constructed from SUS304 stainless steel. It can be optionally designed with a galvanized steel rack upon request.
High Working Efficiency
Furthermore, our sewage sludge dewatering equipment can run continuously and automatically. It is equipped with a high-efficiency rotary drum thickener, thus being ideal for the thickening and dewatering of high-concentration sludge. Depending on its heavy-duty type structural design, this machine can provide the best operation effect among all dehydrators of the same kind. It features the highest solids content rate and the lowest flocculant consumption. In addition, our HTE3 series heavy duty type sludge thickening and dehydrating machine can be used for thickening and dewatering all kinds of sludge on site.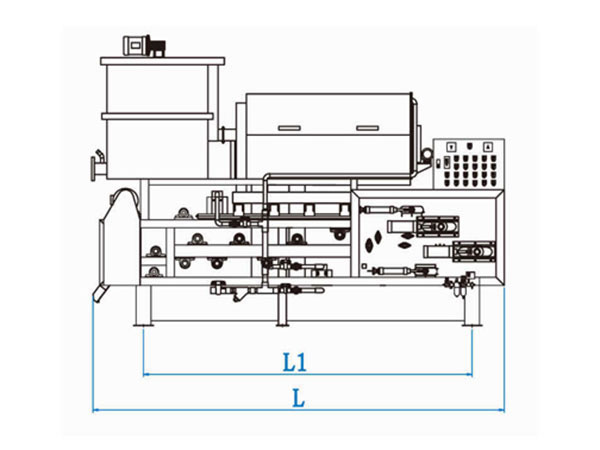 Technical Parameters
Model
HTE -750
HTE -1000
HTE -1250
HTE -1500
HTE -1750
HTE -2000
HTE -2000L
HTE -2500
HTE -2500L
Belt Width (mm)
750
1000
1250
1500
1750
2000
2000
2500
2500
Treating Capacity (m3/hr)
6.6~13.2
9.0~17.0
11.8~22.6
17.6~33.5
20.4~39
23.2~45
28.5~56
30.8~59.0
36.5~67
Dried Sludge (kg/hr)
105~192
143~242
188~325
278~460
323~560
368~652
450~820
488~890
578~1020
Water Content Rate (%)
60~82
Max. Pneumatic Pressure (bar)
6.5
Min. Rinse Water Pressure (bar)
4
Power Consumption(kW)
1.15
1.15
1.5
2.25
2.25
2.25
4.5
4.5
5.25
Dimensions Reference (mm)
Length
3300
3300
3300
4000
4000
4000
5000
4000
5100
Width
1350
1600
1850
2100
2350
2600
2600
3200
3200
Height
2550
2550
2550
2950
3300
3300
3450
3450
3550
Reference Weight (kg)
1400
1720
2080
2700
2950
3250
4150
4100
4550
Attention
1. Our company reserves the right to modify the above-mentioned specifications of this series heavy duty rotary drum thickening-dewatering belt filter press.
2. The treating capacity, dried sludge, and water content rate are decided by the types of sludge.
Customer case
Send Inquiry